Blueberries: Benefits, nutrition, and tips
Blueberries are known by many names, but they all have one thing in common: they taste best fresh from the forest! But of course you can also create some great dishes with the delicious berries from the supermarket.
Blueberries are known by numerous other names, such as:
Blueberries
Wild berries
Wild berries
They grow on bushes that are up to two meters high. The cultivation of cultivated blueberries is very laborious, as the plants often need several years before they bear fruit to an acceptable degree.
Blueberries have dark blue skin and blue flesh.
Info: In the supermarket, there are usually cultivated blueberries to buy. These are usually larger, have a white pulp and are very thick-skinned. This means they last longer and are easier to transport. However, they also contain fewer vitamins, phytochemicals and minerals than normal blueberries from the forest.
Info: The wild blueberries from the forest are rich in anthocyanins (both in the skin and in the pulp); these healthy super pigments turn the teeth and tongue blue when eating. The cultivated blueberries from the supermarket only contain this color in the skin.
Origin
Most blueberries on the world market come from the USA, but numerous European countries such as the Netherlands, Poland and France also grow the blue, small berries.
In winter, when the berries do not grow regularly in Europe, most of the deliveries come from Argentina, Chile, Australia, South Africa and New Zealand.
Season
The blueberry season runs from June to September. They can then not only be bought in the supermarket, but also picked in the forest in the form of wild blueberries.
Caution: You should not eat blueberries from the forest directly from the bush, as they could be contaminated with the fox tapeworm. Therefore, you should wash and heat the small berries briefly before eating them.
Taste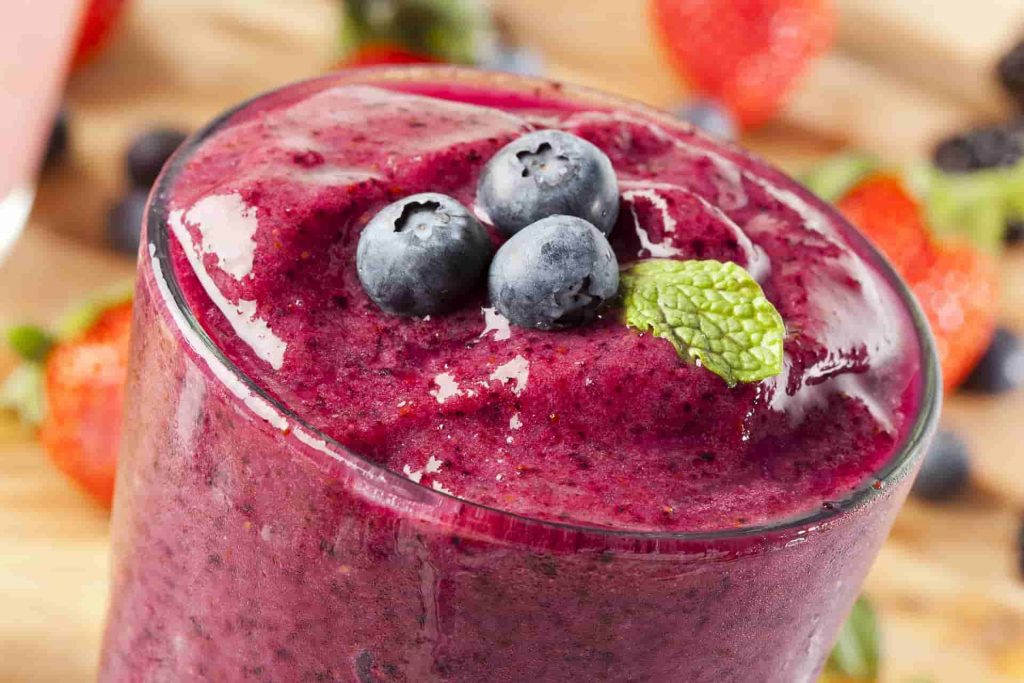 Blueberries have a rather restrained taste and usually taste fruity, sweet and slightly sour. Thanks to their mild aroma, blueberries are easy to combine.
Use in the kitchen
Blueberries, of course, taste particularly good fresh in summer. Many people just eat them in light syrup or with yogurt or sour cream.
The small fruits make a very good fruity note in cakes and tarts. Blueberries are also very popular for jams, compotes, muesli, and ice cream or as a liqueur.
Storage & durability
Blueberries that have been freshly picked in the forest should be stored in the refrigerator and consumed within 1-2 days, because after that they take on a bitter taste.
The cultivated blueberries that are available in stores are special cultivars that have a longer shelf life. They should also be stored in the refrigerator, but then last for 4-5 days. However, they also have a harder shell and do not taste as intense.
You can freeze blueberries without any problems and enjoy them even in winter. It is also possible to dry the small berries.
Nutritional value / active ingredients
Blueberries contain a lot of vitamin C and can thus counteract colds and infections.
The fruits also contain carotenes, which strengthen the immune system and eliminate free radicals.
The contained tannin supports the body in killing bacteria and eliminating inflammation.
100 g blueberries contain only 40 calories and around 7 g carbohydrates.
The small berries contain phytochemicals (= anthocyanins) that help the body to intercept and neutralize free radicals.
The high fiber content also has a positive effect on our intestinal health.
Let's make a fun with quotes video related to berries.