Our breakfast table is hard to imagine without jam. what would breakfast bread be without margarine and the finest fruit jam? The preparation from fruits and sugar can not only be used as a spread, because there are many possible uses for jam, especially when baking.
Jam is known by many names depending on the country and region. In this country one speaks mainly of jam and jam, but in other countries names such as Schmarsel, Gomfi or Schlecksl are also common.
Jam is a preparation that consists mainly of fruits and sugar and is boiled down.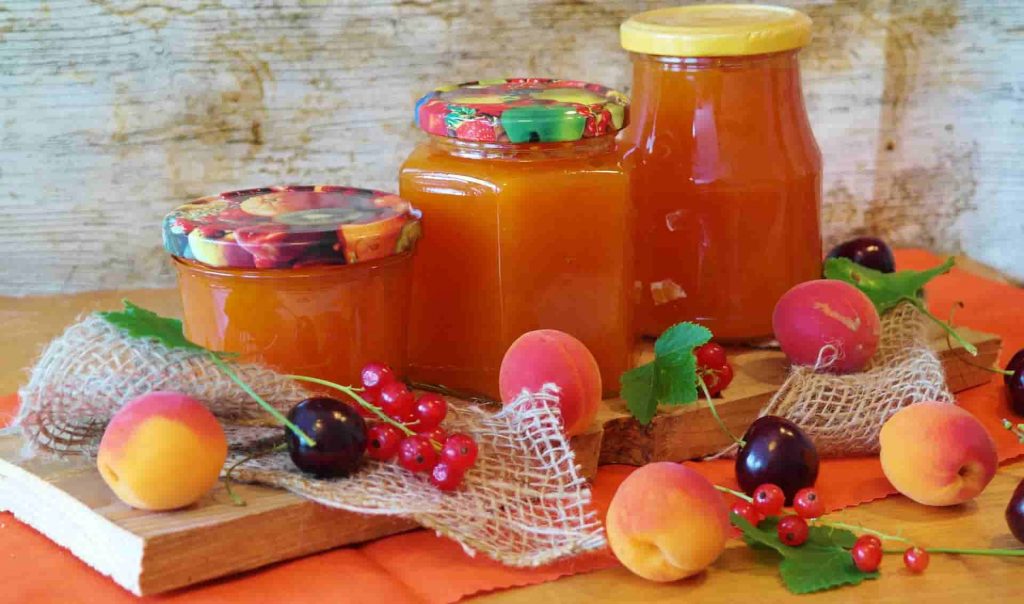 Origin
Jam was probably invented by the Romans who preserved plum jam with sugar cane.
Look
Jam owes its appearance , especially its color, to the fruit used. The main difference between jam and other fruit spreads is that the consistency is not smooth, as would be the case with jelly, for example. Rather, jam still contains pieces, as it is made from whole fruits or pieces of fruit.
Taste
First of all, jam tastes very sweet due to its high sugar content. Of course, the taste of the fruit used in each case also comes through and is complemented with the sugar to create a pleasant, yet strong sweetness.
For example, the fruit flavor can come from strawberries, raspberries, apricots, citrus fruits, and much more.
Application / use in the kitchen
Jam is a popular spread that should not be missing on the breakfast table.
In USA, jam is used in a variety of ways, especially in baking. What would a Sacher cake be if it weren't apricot zed with apricot jam before glazing? Currant jam provides that certain something in the Linzer Torte.
Donuts are offered with apricot jam all year round and with other types of jam such as rose hip jam during the carnival season.
A sweet sauce can be made from whipped cream and jam, which can be used to give cakes a fruity note.
In principle, anyone can make jam at home. This is of course particularly useful if you have your own fruit in the garden that would be left over anyway. By adding the right amount of sugar, the jam can often be preserved for years.
Jams basic recipe…
Ingredients:
1 kg (any) fruit
500 grams of preserving sugar 2: 1 (or preserving sugar 1: 1)
2 tablespoons of lemon juice
Preparation:
Put the washed and possibly pitted and finely chopped fruits together with the sugar in a tall saucepan stir well and let steep for 3-4 hours – stirring occasionally.
Then mix in the lemon juice and bring the saucepan to a boil while stirring, simmer for about 4-6 minutes until the fruits are soft.
Then you can pour the jam into clean screw-top jars while still hot and keep it cool and dark.
Other / special features
In Europe[1], only jam that is made from citrus fruits and has a fruit content of at least 20 percent can be called jam, everything else must be called jam.
Due to an exception, there are still products such as: