Walnut oil is the perfect companion for mild salads and dishes. Due to its pleasant nutty taste, even carefully dosed, it gives every dish a delicious note. However, walnut oil is not really suitable for cooking.
Walnut oil is an edible oil of the highest quality which, with its golden yellow, radiant color, makes you want more.
Walnut oil is partly made from ground, roasted and unroasted, oily nuts or kernels of the walnut tree. Compared to other varieties, it is quite thin and, depending on the production method, has a more or less strong nutty taste.
Info: The oil has a relatively short shelf life – ideally it can be kept for three quarters of a year, provided it is stored in the refrigerator and in a dark bottle.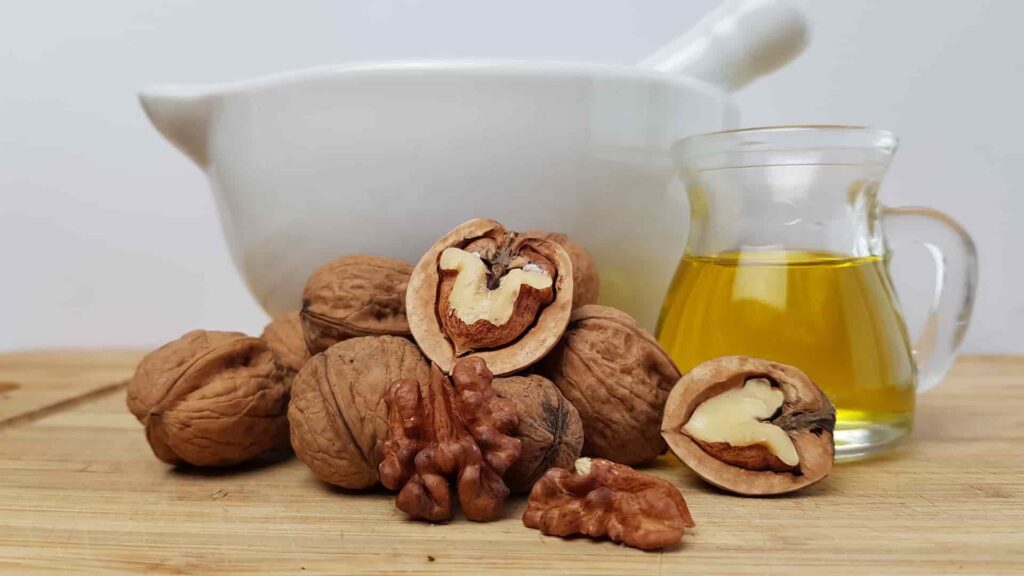 Origin & quality features
Walnuts originally come from Central Asia and have been grown there for more than 9,000 years.
Important growing countries are France, China, Italy, California and Chile.
Walnut oil can be produced by hot pressing, cold pressing and extraction (= the oil is obtained by chemical solvents) from walnuts. Around 2-3 kilograms of ripe walnuts are required to produce one liter of this delicate oil.
Info: Cold pressing produces the best and healthiest taste experiences, as the full, nutty taste is retained, no chemical solvents are used and no heat is added.
If you soak chopped walnuts in a neutral cooking oil for a few days, you can make your own walnut oil.
Use in the kitchen
The smoke point of walnut oil is very low, around 130 ° C. Therefore it is recommended not to use this oil for heating or deep-frying .
But it is very popular to refine salads, soups and sauces and to give them a pleasant nutty aroma. The nut taste also gives desserts, pastries or creams a special note.
Tip: You should use walnut oil sparingly, especially with the cold-pressed version, as otherwise you can quickly cover other tastes.
Walnut oil is also suitable for enhancing dishes that have relatively little flavor, such as celery, fish, rice or asparagus dishes.
Health
Walnuts are valuable suppliers of monounsaturated and polyunsaturated fatty acids and omega 3 fatty acids. They are responsible for a balanced blood fat level.
They increase the performance of the brain as well as the ability to learn and concentrate. Therefore, the oil also has this effect.
Walnut oil can also help prevent inflammation, lower blood pressure, and improve blood flow properties.
It also has antioxidant effects on the body.
The contained ingredient tocopherols also strengthens the nervous system, circulation and heart function.
Walnuts have a large proportion of unsaturated fatty acids and therefore also have a positive effect on cholesterol levels.
Info: Walnut oil is not only used in the kitchen, but can also be applied to the skin (dry lips, irritated, cracked and light-damaged areas) due to its linoleic acid content. The oil can also be used for hair care.
Best Walnut Oil Review 2020
---
La Tourangelle Roasted Walnut Oil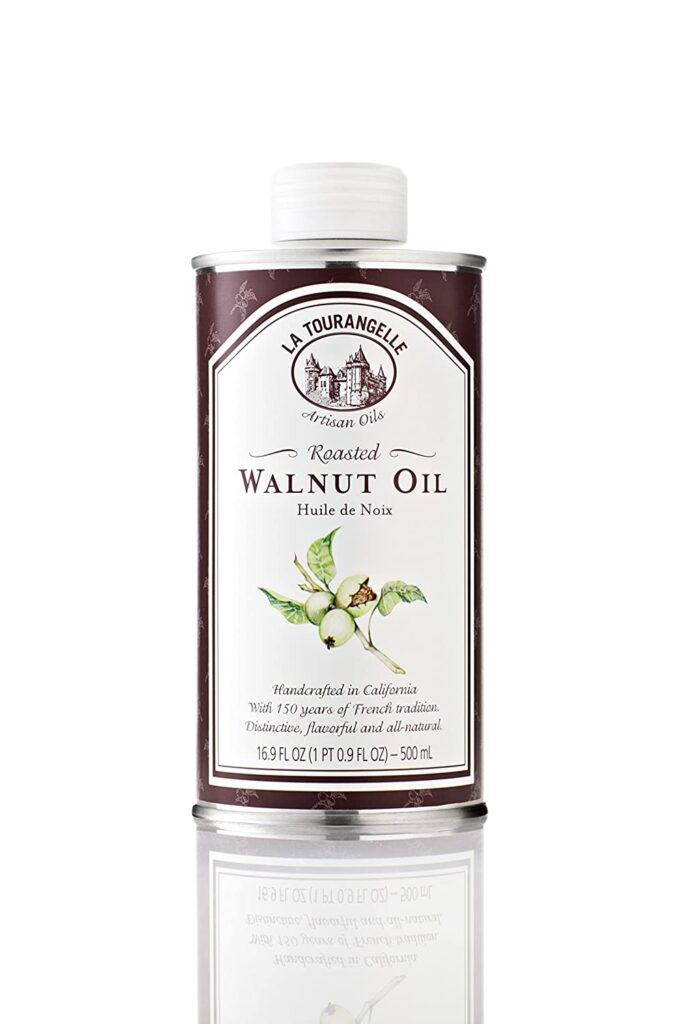 The La Tourangelle is famous for artisan nut oils. The Roasted Walnut Oil is handcrafted in their California mail using 150 years ago the same French traditional method. Great ingredients for making salads, grilled meat, pasta, cheese plate, etc. Gluten-Free, so it brings premium taste. Check out some of the features described below
La Tourangelle Roasted Walnut Oil
QUALITY YOU CAN TASTE: La Tourangelle brings artisan excellence to your kitchen and home. The mainstay of all La Tourangelle's natural, artisanal oils is premium taste derived from the best quality ingredients. Add the flavor of La Tourangelle to any meal.
CHEF'S SECRET ACCESSORY: Delicate and pale in color, La Tourangelle Roasted Walnut Oil provides a rich yet elusively nutty taste; it has distinct notes of walnut nutmeats in every drop. It will add a gourmet taste to any ordinary meal.
DELICIOUS & VERSATILE: La Tourangelle oils make it easy to create distinctive dishes for professional chefs, novice cooks and foodies alike. Great for salads, on grilled meat, pasta, or a cheese plate, our oils create memorable moments around the table.
NATURAL & SUSTAINABLE: La Tourangelle's delicious, artisan oils provide the perfect touch to make a gourmet breakfast, lunch, or dinner. We strive to be the best artisan oil producer, dedicated to making carefully crafted, sustainable, natural products.
KITCHEN? YOU MEAN ART STUDIO: From Organic Extra Virgin Olive Oil to our AvoCoco butter substitute & Pesto Oil, La Tourangelle brings the best oils and flavors from around the world straight to your kitchen. Discover your culinary creativity with our oils!
Mahoney's Finishes Walnut Oil

Mahoney's Finishes Walnut Oil is a famous wood protectant. It is suitable for your wooden furniture, floors, kitchen utensil, and even musical instruments. This walnut oil penetrates the pores and is absorbed very easily. Keep your wood shiny, so no need to tension about scratches, spills, and abrasions. Check out some of the features described below
Mahoney's Finishes Walnut Oil Features
UNIQUE SATIN SHINE IN YOUR KITCHEN. Offer your kitchen utensils, salad bowls, butchers blocks, wooden knives a rich sheen with the top food safe wood finish. This 16oz walnut finish oil makes an excellent wood protection oil that will add a satin touch to your utensils, while being absolutely safe for health.
MULTI PURPOSE. Much more than a wood salad bowl finish, Mahoneys walnut oil is a killer MULTIPURPOSE wood protectant for your furniture, wooden floors, woodworking projects and even musical instruments. Use it as an efficient desk, dining table, cabinet or shelf walnut finish for protection against scratches, spills and abrasion.
EASIER TO USE THAN EVER. Just apply a couple of coats until the wood is saturated, wipe off the excess product and let it dry for a few hours. Made for your convenience, this Mahoneys finish features a smart design nozzle for increased control in application, preventing excessive flow produced by many similar products.
EASILY ABSORBED and PERFECT FOR ALL WOOD. Forget all about cheaply made wood protectants that are hard to absorb, soaking up the wood and causing a mess. This finishing oil penetrates the wood pores in depth and is fast to dry, leaving behind only perfectly shiny wooden surfaces.
WITH RESPECT FOR YOUR FAMILYS HEALTH. Worry no more about ugly toxic smells and chemical substances that could render your salad bowl or cutting board harmful for health. With a fresh walnut scent and leaving absolutely NO toxic residues, our walnut finishing oil is made with your health as top notch.
Erbology Organic Cold-Pressed Walnut Oil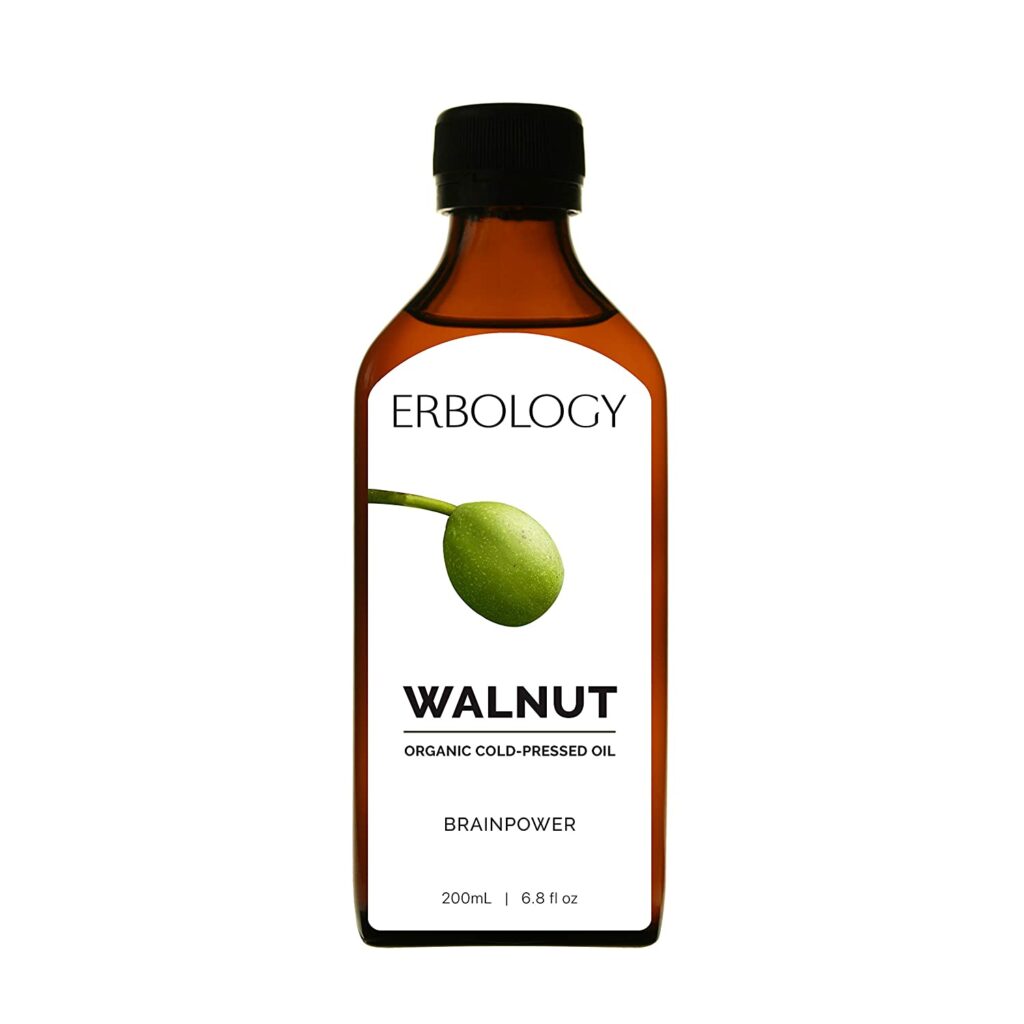 Erbology manufactured 100% pure and organic cold-pressed walnut oil. It's free from genetically modified organism (GMO). No preservatives are used for the store. So without any hesitation, you can consume on your salad, soup, pasta dishes even you can apply a small amount to skin and hair. Check out some of the features described below
Erbology Organic Cold-Pressed Walnut Oil Features
Rich in omega-3, omega-6 and phytonutrients that help nourish your brain and fight nasty free radicals
Enjoy 1-2 tbsp daily in salad, soup, pasta dishes or apply a small amount to skin and hair
100% organic cold-pressed oil made from walnuts
Organic - Cold-pressed - Vegan - Gluten-free - No preservatives - Non-GMO
PÖDÖR Premium Walnut Oil

PÖDÖR Premium Walnut Oil is cold-pressed unfiltered walnut oil. It hasn't any additional color, preservative, and any additives. It's 100% oil that comes from Walnut. You can use it on your daily salad, vegetables, pasta, soup, and much more food. Check out some of the features described below
Spectrum Essentials Walnut Oil

Spectrum manufactured Expeller Pressed Walnut Oil. It is a perfect oil for high heat cooking (up to 425 degrees F/ 218.33 C). You can use it for baking, sauteing, and salad dressings. This oil has great natural tastes for more information check it's unique features described below
Spectrum Essentials Walnut Oil Features
For baking, sauteing, and dressings
Expeller Pressed Walnut Oil
Refined for a neutral taste
Great for medium-high heat cooking (up to 425 degrees F)
Non-GMO Project Verified, Certified Kosher by the OU
Lieber's Walnut Oil 100 Percent Pure and Natural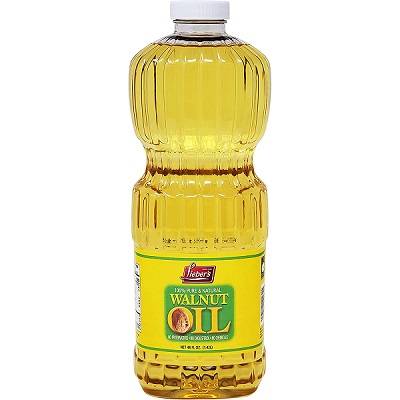 Lieber's Walnut Oil is made from dried and then cold-pressed walnuts. Especially it makes for cooking purpose. Also, you can use it as an additive salad, vegetables, and many more items. Lieber's Walnut Oil is a healthy alternative to use when popping corn. for more information check it's unique features described below
Lieber's Walnut Oil 100 Percent Pure and Natural Features
Lieber's Walnut Oil.
64 Ounce Bottle.
Kosher For Passover.
100% Pure & Natural.
No Preservatives, No Cholesterol, No Chemicals.
Roland Walnut Oil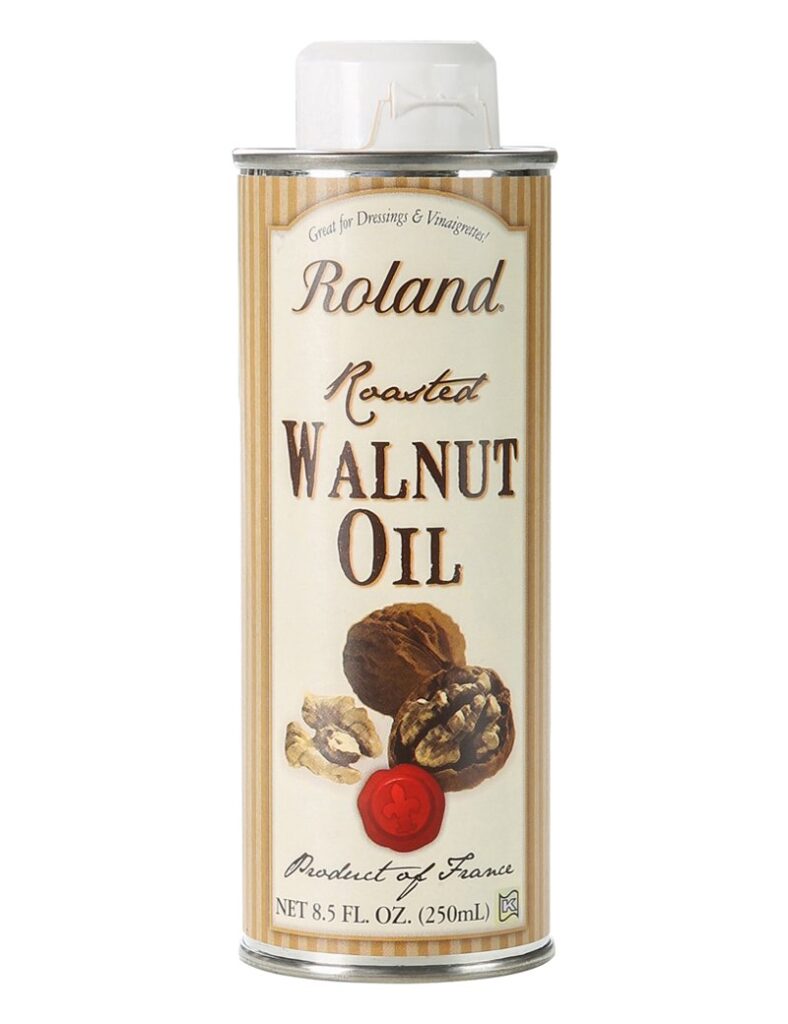 Roland Walnut Oil is manufactured by Roland Foods. The county of origin is French. It hasn't any extra color, preservative, so it's 100% pure and organic. It's an excellent product for brain development. It's fit for all ages even Babies can take it. Check out some of the features described below
Roland Walnut Oil Features
Country of origin is France
The package dimension of the product is 4"L x 3"W x 2"H
The package weight of the product is 5 pounds
Dr Adorable Walnut Oil Organic Cold Pressed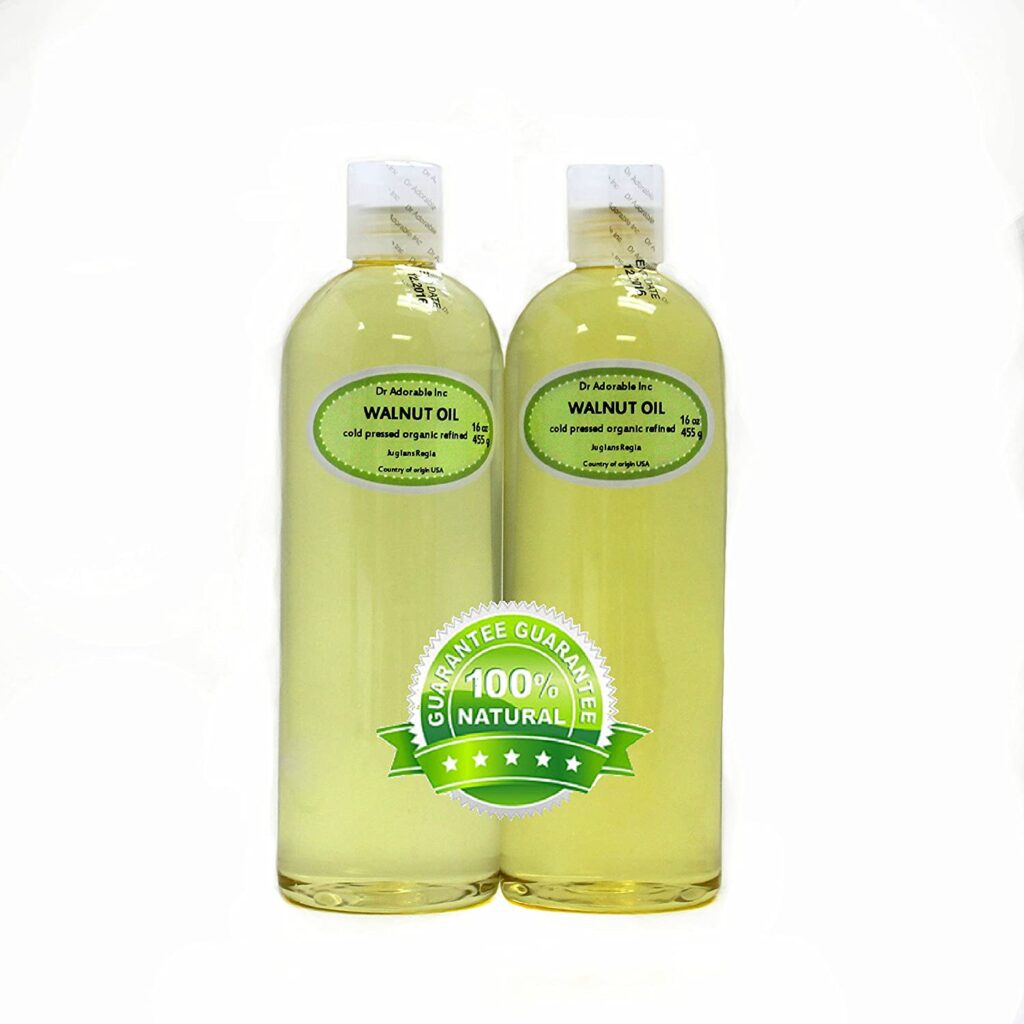 Dr Adorable Walnut Oil is non-GMO completely Organic 100% pure oil. The walnut oil origin country is the USA. It comes to a lucrative plastic bottle. Tastes as expected like other walnut oils. Beautiful color and silky smooth oil. for more information check it's unique features described below
Dr Adorable Walnut Oil Organic Cold Pressed Features
Great in soaps, creams, lotions and for massage.
Keep the skin moist.
Usage Rate: 1-100%
We make our natural non-GMO completely Organic 100% pure oils with the highest standards of quality and integrity. Our company does not test its products on animals