10 Fast Food Dishes You Can Eat Despite A Low Carb Diet!
However, especially with a low-carb diet, you have to do without a lot: bread, pasta and potatoes are mostly taboo. Health Bas shows you which fast food dishes you can still eat despite a low-carb diet and which alternatives are available for you.
Low carb fast food: is it even possible?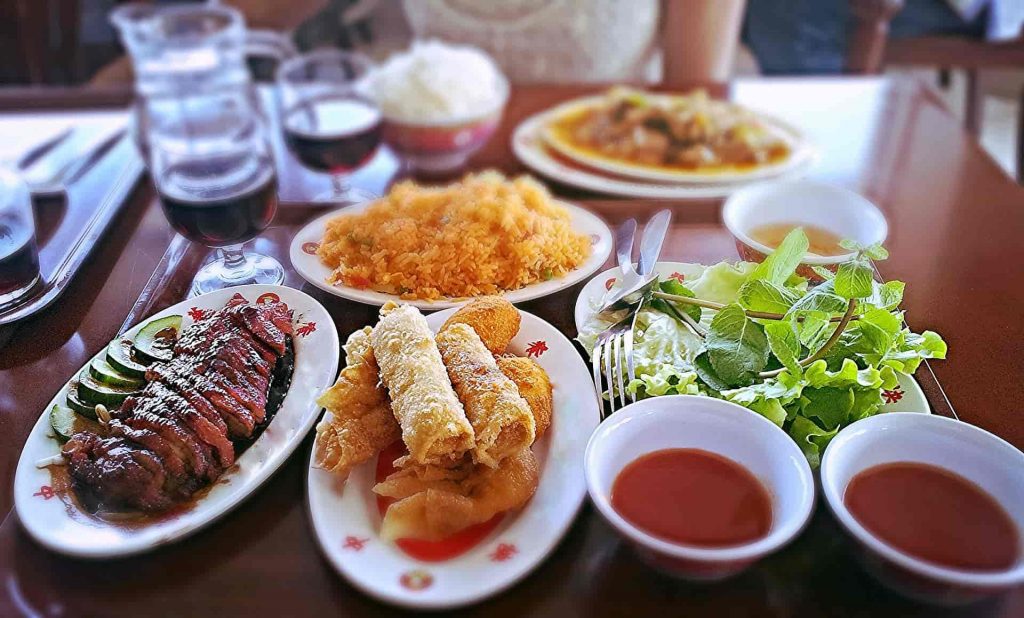 The low carb diet is about getting as few carbohydrates as possible through food. Bread, potatoes, juices and much more are especially taboo at first. Every now and then, however, each of us would like to treat ourselves to something unhealthy.
Unfortunately, fries, burgers, pasta, wraps and sushi are the most popular items in the fast-food restaurants – the selection of low-carb fast food seems very limited. In the following ten points you can find out which fast food can be eaten specifically in the diet and which alternatives are available.
1. Low carb fast food: topless burger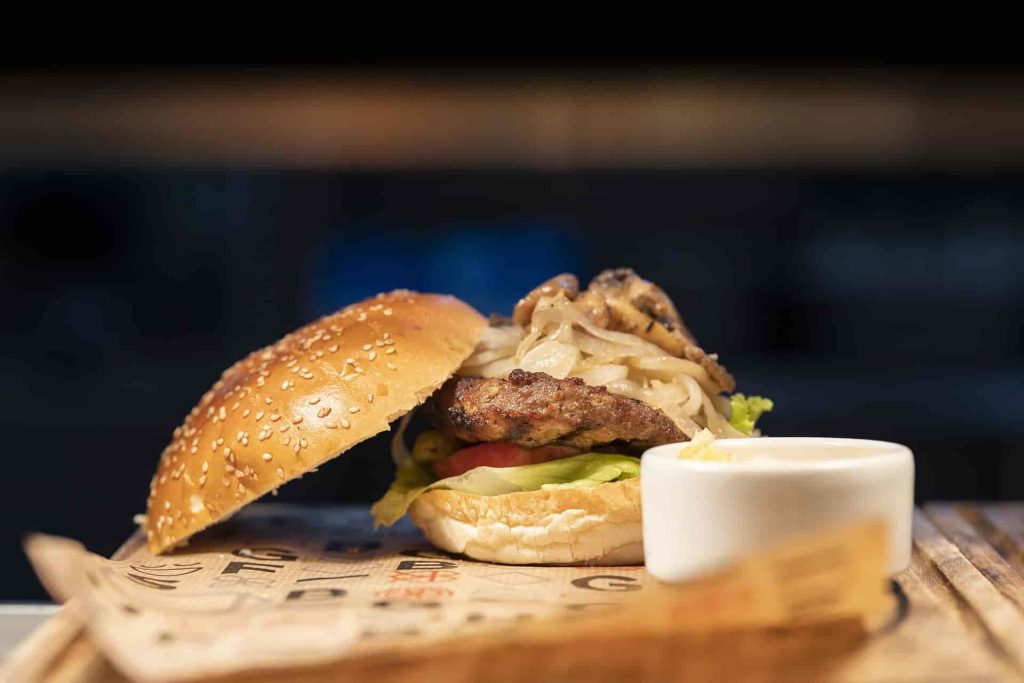 Burgers are one of the most popular fast food dishes and they are not that unhealthy either: the beef patty provides protein and iron, the tomatoes lycopene (an important plant substance) and the lettuce vitamins. Carbohydrates are mainly found in the white rolls and in the very sugary sauces.
Therefore, as a low carb fast food, you should avoid burger buns. These are mostly made from refined white flour, contain added sugar and hardly any fiber. Caution is also advised when choosing a sauce: it is better to use mayonnaise than ketchup or barbecue sauce.
To make the burger more interesting in terms of taste, you are welcome to choose from various toppings such as cheese, bacon, fresh onions and mustard.
2. Low carb fast food: Meat or tofu with vegetables from the wok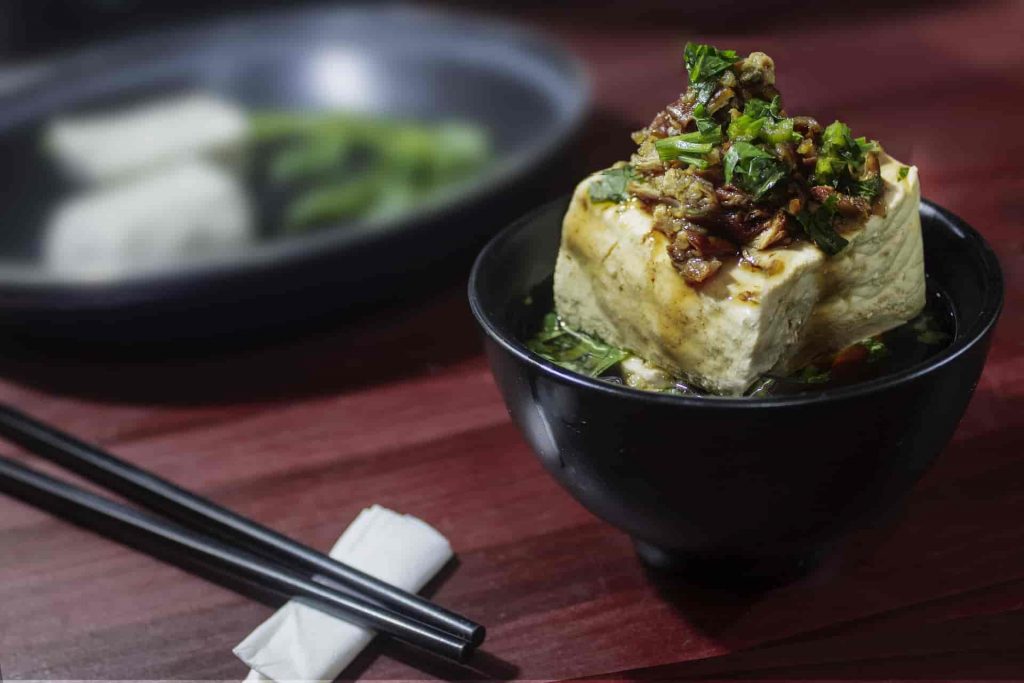 Just Asian food than fast food popular in Germany. Unfortunately, fried noodles or fried rice are real carbohydrate bombs.
To get a low carb alternative, simply grab a meat or tofu dish with fresh vegetables instead of rice or noodles. However, you should avoid sweet and sour sauces and rather season them with soy sauce. This saves you a lot of carbohydrates and provides your body with a lot of protein.
3. Low Carb Fast Food: Grilled Chicken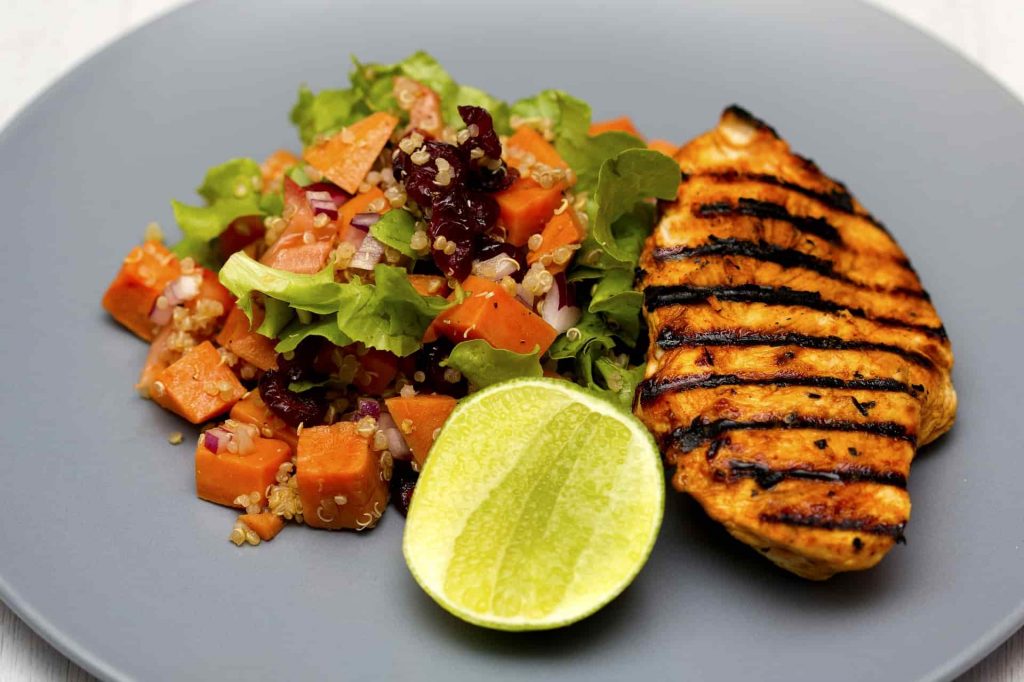 The grilled chickens are not particularly rich in nutrients or vitamins: Half a grilled chicken (300 grams) provides 498 kilocalories and around 30 grams of fat.
However, for every 300 grams of chicken there are zero grams of carbohydrates and over 60 grams of protein. They are therefore well suited as low carb fast food, but side dishes such as potato salad or French fries should not be eaten.
4. Low carb fast food: salads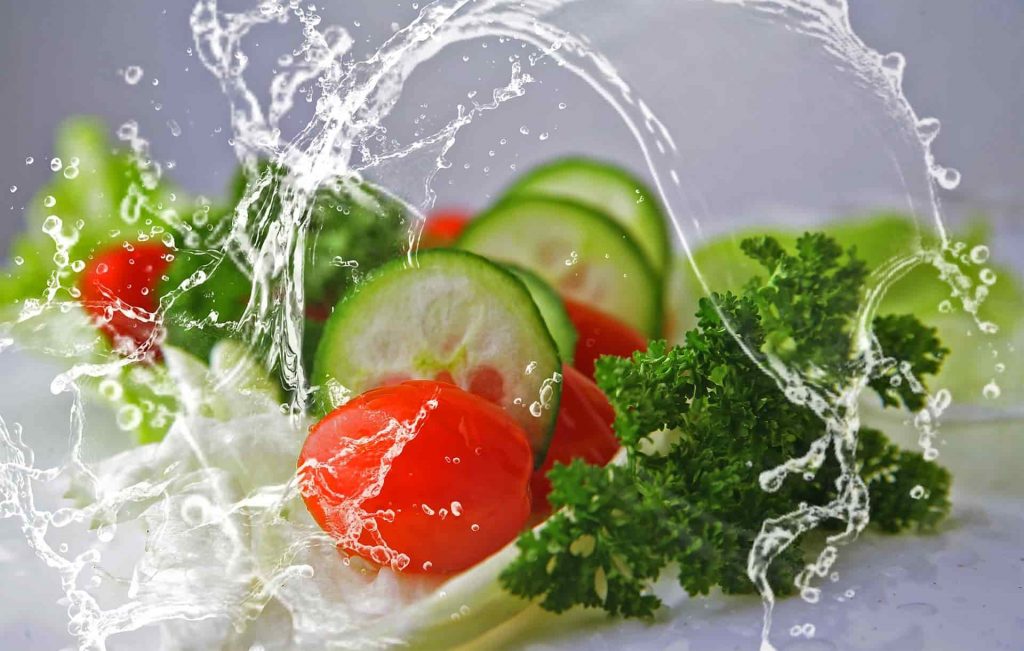 A fresh salad is one of the best low-carb fast foods. A salad is high in vitamins, protein, beta-carotene, antioxidants, and a lot of water.
Salads are real nutritional miracles, especially when healthy toppings such as baby spinach, beetroot, radishes or carrots are added. Various studies have shown that people who eat salads regularly have a 14 percent lower risk of developing diabetes than people who eat little or no salad.
Resource
Avoid 5 most common low-carb mistakes!
In addition, people who eat little salad are more likely to be obese. So salads are a fast food that is really low carb. Take care when dressing choice sure to choose a light yogurt or vinegar-oil dressing. French American or Cesar dressings often contain a lot of added sugar. Croutons or the bread that is often included should also be avoided.
5. Low Carb Fast Food: Chicken Wings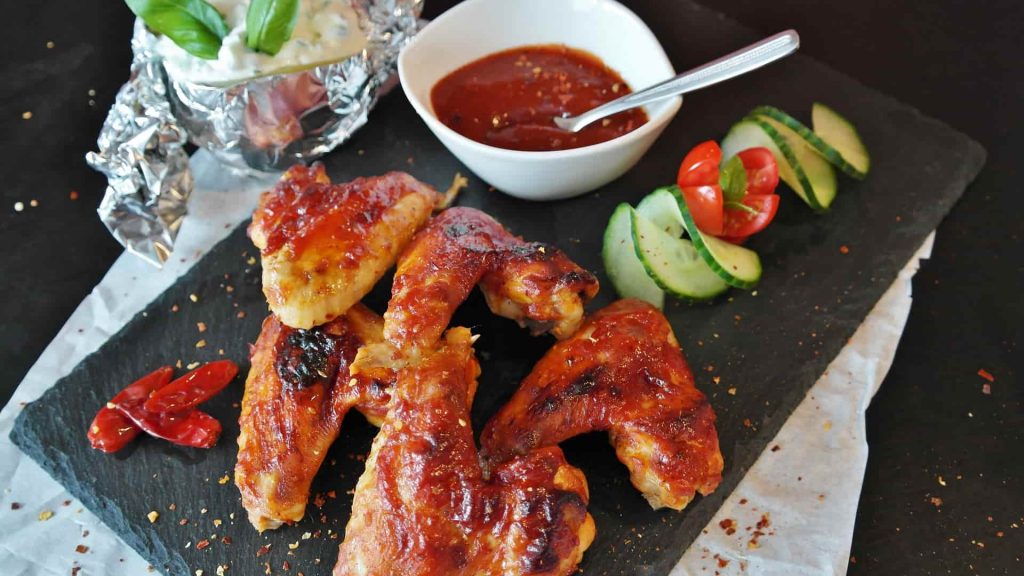 In fact, much like half a chicken, grilled chicken wings are a good low carb fast food alternative to chicken nuggets or other breaded chicken pieces. The breading contains most of the carbohydrates and dangerous trans fatty acids that have a negative effect on the cholesterol level.
Trans fatty acids lower the "good" HDL cholesterol and increase the LDL cholesterol. The latter accumulates in the vessels and promotes the development of cardiovascular diseases, primarily arteriosclerosis.
In order to absorb as few calories as possible from the grilled chicken pieces, avoid sugary sauces such as barbecue sauce, ketchup, and sweet and sour sauce and prefer to use marinated chicken that is already seasoned.
6. Low carb fast food: soups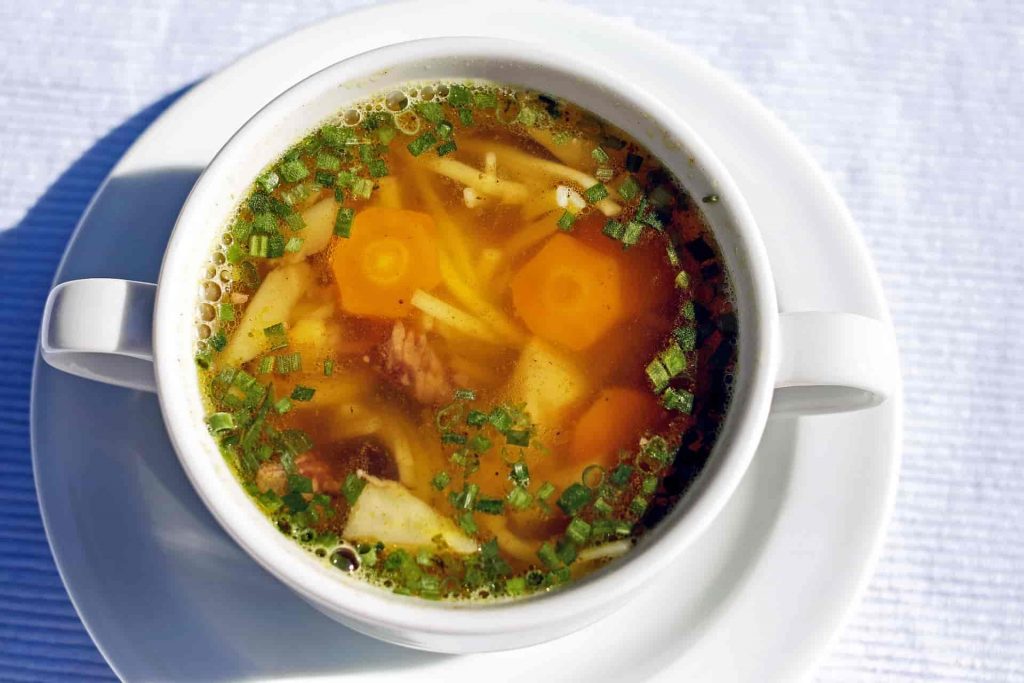 Soups are also one of the healthiest low-carb fast foods. Regardless of whether it's an Asian Tom Kha Ghai soup, delicious tomato soup or vegetable soup: All of them provide plenty of vitamins warm us from the inside and keep us full for a long time.
Potato soups or soups with pasta or rice are unsuitable for low-carb foods. You should of course not eat bread with the soup.
7. Low Carb Fast Food: Bratwurst
If you can't avoid the smell of the grill stalls, it's best to opt for a ham or Krakauer sausage with mustard instead of ketchup.
The ham or Krakauer contains a maximum of 0.3 grams of carbohydrates per 100 grams, so it is well suited as a low carb fast food. Bread or rolls should not be eaten with the sausage.
8. Low carb fast food: curries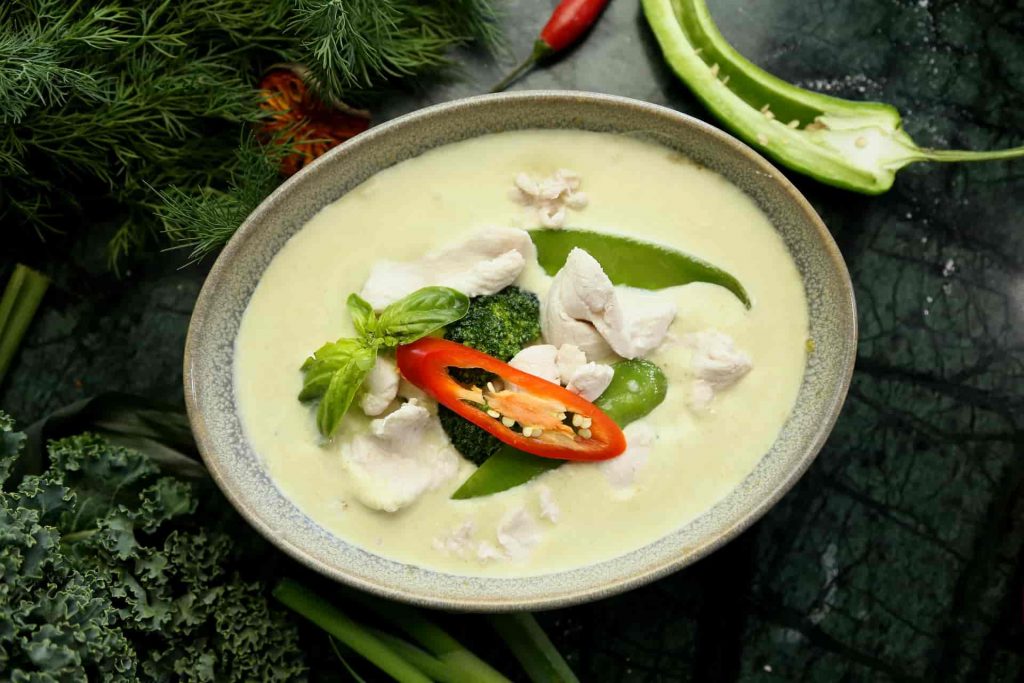 Delicious curries, whether vegetarian, vegan or with meat, are good low carb fast food. Curries are usually very rich in protein and the hot spices get your digestion going.
Make sure that the curries do not contain any potatoes, bananas or rice. Potatoes and bananas in particular are high in carbohydrates.
9. Low Carb Fast Food: Sushi with rice paper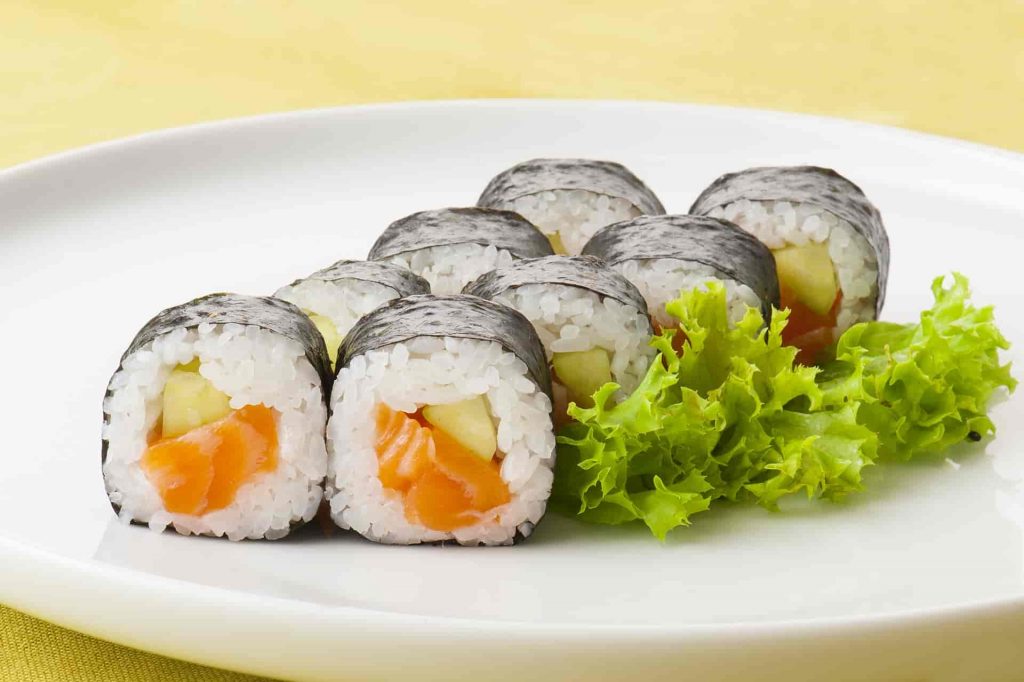 In principle, sushi is delicious and healthy, but unfortunately contains almost ten grams of carbohydrates per maki piece (around 30 grams). If you do not want to do without sushi despite the low carb diet, you can use the so-called summer or lucky rolls as an alternative.
For the Vietnamese specialty, fresh ingredients such as salads, carrots, avocado and low-fat chicken are wrapped in rice paper. The variable rolls are not only delicious, they also contain (depending on the filling) many vitamins, phytochemicals and proteins.
10. Low carb fast food: kebab platter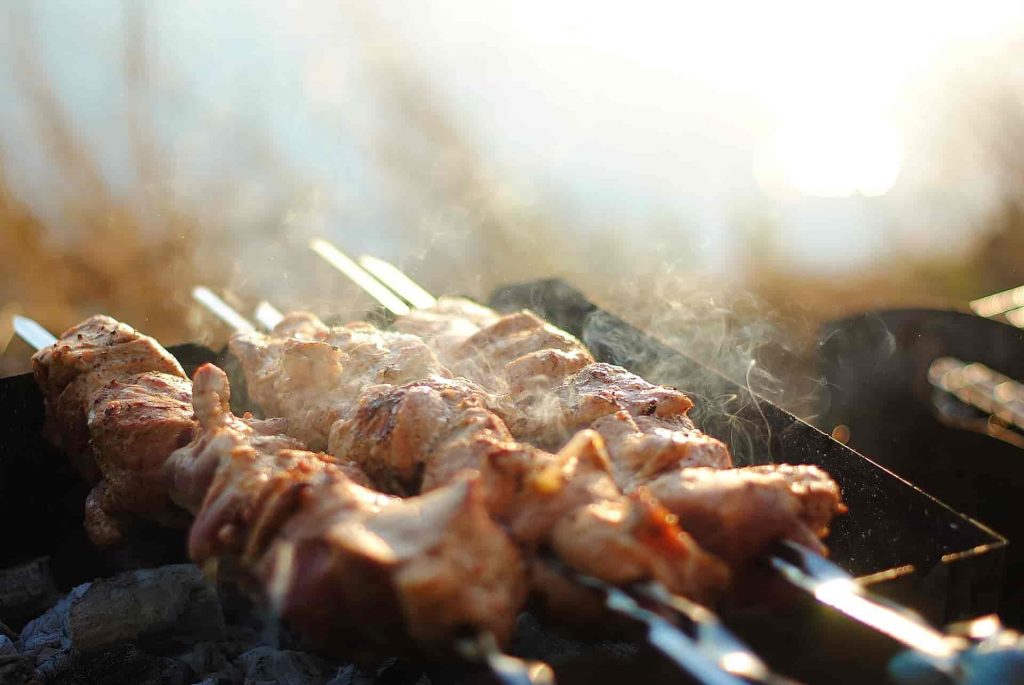 Doner is one of the most popular dishes in Germany. So that you don't have to go without the kebab in spite of your low carb diet, simply order a kebab plate with salad. The almost 75 grams of carbohydrates in a doner kebab (350 grams) are mainly supplied by bread.
So if you skip bread and fries and have a plate of kebab and salad instead, you are consuming next to no carbohydrates.
Our expert Anja Boerner , qualified ecotrophologist from Hamburg , explains whether you can also go to a fast food restaurant with your children from time to time :
"Yes, of course. With a varied diet, fast food is okay from time to time. It is important that a visit to a McDonalds or Burger King is not presented as something special and certainly not as a reward."
Knowledge to take away
The low carb diet is about taking in as few carbohydrates as possible through food. Therefore, especially with fast food, rolls, french fries, potatoes, noodles, rice and sweet sauces are prohibited. For the low carb burger, just leave out the burger bun and sugary sauces.
Asian fast food is a good low carb alternative as long as you avoid the sweet sauces and the fried noodles or rice. It is best to choose lean meat or tofu and fresh vegetables from the wok.
A colorful salad with lots of healthy toppings is a good choice for the low carb diet. When choosing a dressing, be sure to choose a light yogurt or vinegar-oil dressing.
In contrast to breaded chicken pieces such as chicken nuggets, chicken wings are a suitable low carb fast food as long as you omit the sugary sauces. Breaded meat should be avoided.
Soups are a great choice if you want to eat low carb fast. Curries are also absolutely suitable as low carb fast food, as long as they do not contain potatoes, bananas or rice. Normal sushi is not suitable as a low carb fast food, but filled rice paper rolls contain hardly any carbohydrates and are super tasty.